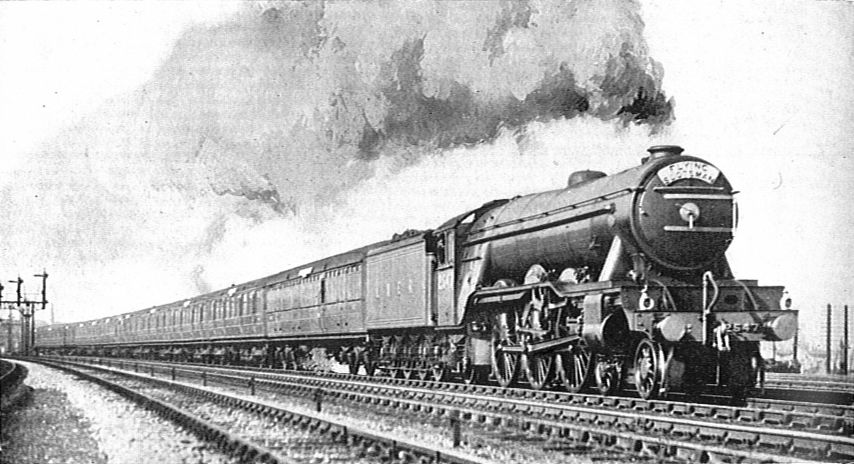 "The Flying Scotsman" at full speed. LNER Engine No. 2547 "Doncaster" with corridor tender. Photo: F.R. Hebron. Public Domain, via Wikimedia Commons.
The Golden Age of the railways was brought to a fairly brutal end by WWI, when the entire network was effectively commandeered for the duration of the war and run by the government's Railway Executive Committee. One outcome of this was the realisation that the large number of different railway companies that existed up to that point was unsustainable; many of them were loss-making already and the war pushed them even further over the edge. So the government passed the Railways Act which grouped almost all of the existing companies into four regional companies:
London, Midland and Scottish Railway (LMS)
Great Western Railway (GWR)
London and North Eastern Railway (LNER)
Southern Railway (SR)
Although the grouping helped to stabilise the rail industry, it didn't solve the problem of increasing competition from road transport. Passenger and freight both dropped after the end of WWI, and this era saw the first closures of some uneconomic lines - a scenario not helped by the 1930s economic depression.
Despite that, this is an era which is very popular with railway modellers. There is a large number of products suitable for the era, and the choice of four grouped companies makes it easier to mix and match suitable locomotives and rolling stock. It's also an era which is well-documented in print and on camera, so if you want to do your own research there is plenty of material out there.
If Era 2 represents the Golden age, then Era 3 is considered the "Classic" age, when steam technology was at its peak and some of the most famous locomotives and trains, such as Mallard (still the world record holder for the fastest steam locomotive), Flying Scotsman and the Coronation Scot, made their debut.
Alternatively, this is an era which covers WWII and the specialised traffic which ran on the railways during that time, such as troop trains and military equipment, often hauled by locomotives imported from the USA. This can make for an interesting, and very different type of model railway layout.