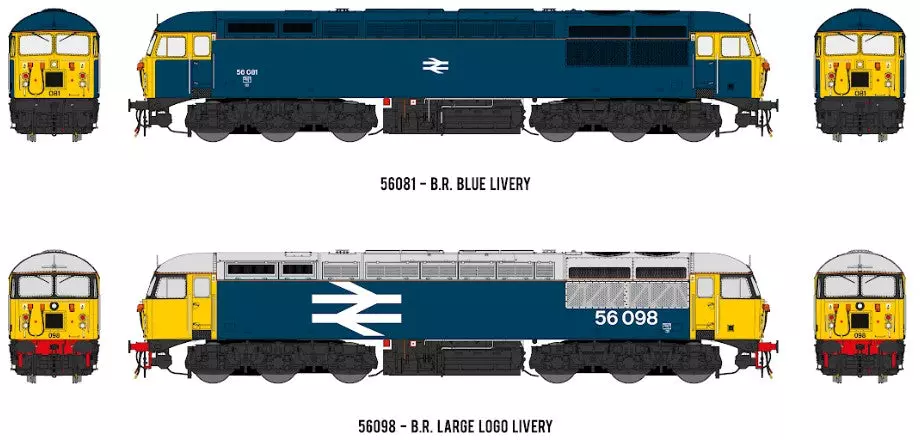 Manufacturer catalogue image - please note that pre-release images may be CAD renders or CGI images rather than photographs
Prototype Era
Era 8 (1983 to 1994) British Rail Sectorisation
Manufacturer description
Expected Delivery Q4 2023 (Subject to change at Manufacturer's Discretion).
Class 56 081/098 GBRF Farewell Railtour Diesel Locomotive Twin Pack
Includes:
1 x Class 56 081 BR Blue Diesel Locomotive
1 x Class 56 098 BR Large Logo Diesel Locomotive
The locomotive will incorporate the following features:
A wealth of separately fitted parts, including bogies which aren't just one piece mouldings to allow for proper detail relief
Photo etched grilles throughout the model
All wheel pick up
Alloy chassis to allow the locomotive to pull prototypical wagon rakes
5 pole motor with twin flywheels, geared for prototypical running speeds with superb
slow speed control
DCC sound and stay alive options (Further news to follow)
Provision for an EM2 Speaker in the chassis as standard
Drop in EM/P4 wheelset packs available to order separately to coincide with the
release of the model (Further news to follow)
Separately motor operated roof fans via a function output on DCC, or when moving
on DC
Etched name plates supplied as appropriate
Both standard and revised cantrail grill options depending on prototype.
The Cavalex 56 will be produced to the same high standard of finish as the highly regarded PGA and BBA/BLA wagons, incorporating similar levels of detail and innovation.
Product Code:
CM-56081-56098-GBRF-DCC
Limited edition model for
Rails of Sheffield
Features
Interior lighting
Locomotive class*
Class 56
* Class names often change over the lifespan of a locomotive, so this is not necessarily the class name used by the operator in the period modelled.
Special commissions are usually only available new from the commissioning organisation, and may well have sold out on pre-order before they even end up listed here! But you may be able to find used items on marketplace or auction websites.
Supplier links are provided for your convenience and do not guarantee that the product is currently available. RailwayModels.uk is not a representative of these suppliers, but may receive a commission when purchases are made through links on this page.