Dapol 4D-015-008D
Class 122 55018 BR Green Speed Whiskers DCC Fitted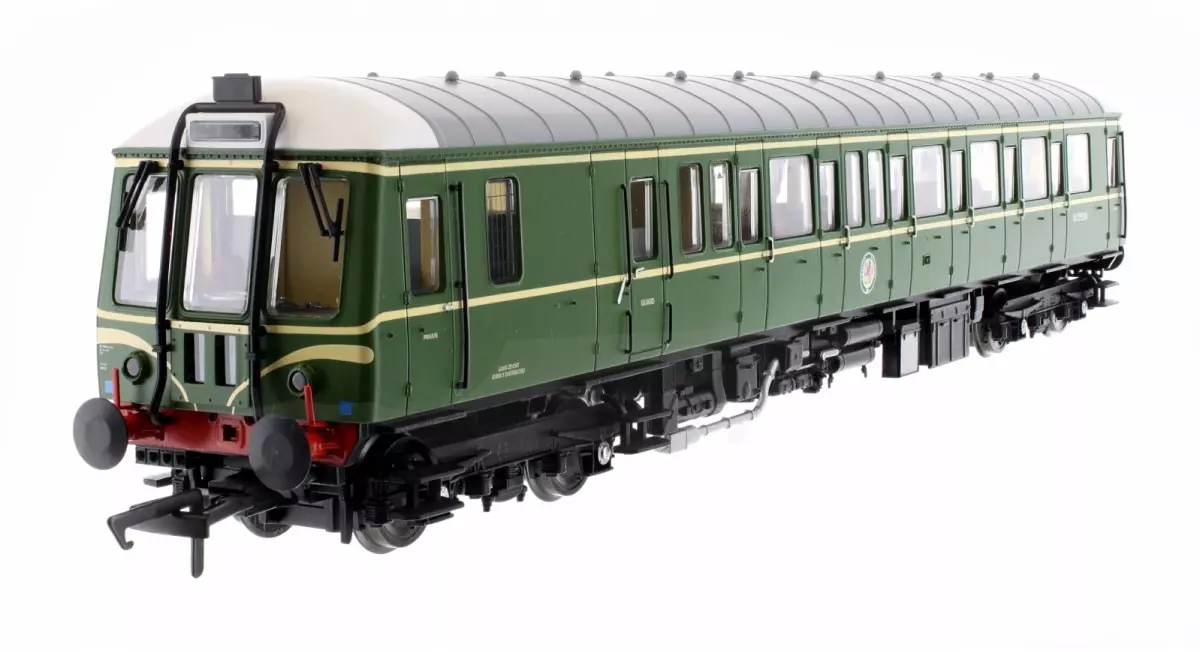 Manufacturer catalogue image - please note that pre-release images may be CAD renders or CGI images rather than photographs
Prototype Eras
Era 4 (1948 to 1956) British Railways Early Crest
Era 5 (1957 to 1966) British Railways Late Crest
Manufacturer description
The British Rail Class 122 is a type of diesel multiple unit which operated primarily on the London Midland, Scottish and the South-Western Regions of British Rail between 1958 and 1995. Twenty single car driving units or bubble cars and ten trailer vehicles were built by Gloucester RC&W in 1958 and six survive into preservation. In 1980 the Scottish Region Class 122 were converted to carry parcels and reclassified as Class 131, although the cars themselves were not renumbered
The Dapol Model of the Class 121 and 122 shall include:
Finely moulded body with many separately added fine details
Accurately applied livery
DCC ready
DCC fitted models available
Cast wheels with fine relief and appropriate colouring
Tungsten chassis and all wheel pick up
NEM pockets as standard
Independently controllable and switchable directional lighting
Dapol's 5 Pole Skew wound Mega creep motor for smooth running and fine speed control
Accessory bag with spares and other optional detail
Product Code:
4D-015-008D
Minimum radius curve
Radius 2
Coupling
NEM / Tension lock
Locomotive class*
British Rail Class 122
Operator
British Railways
Motive power
Diesel Multiple Unit
* Class names often change over the lifespan of a locomotive, so this is not necessarily the class name used by the operator in the period modelled.
Supplier links are provided for your convenience and do not guarantee that the product is currently available. RailwayModels.uk is not a representative of these suppliers, but may receive a commission when purchases are made through links on this page.