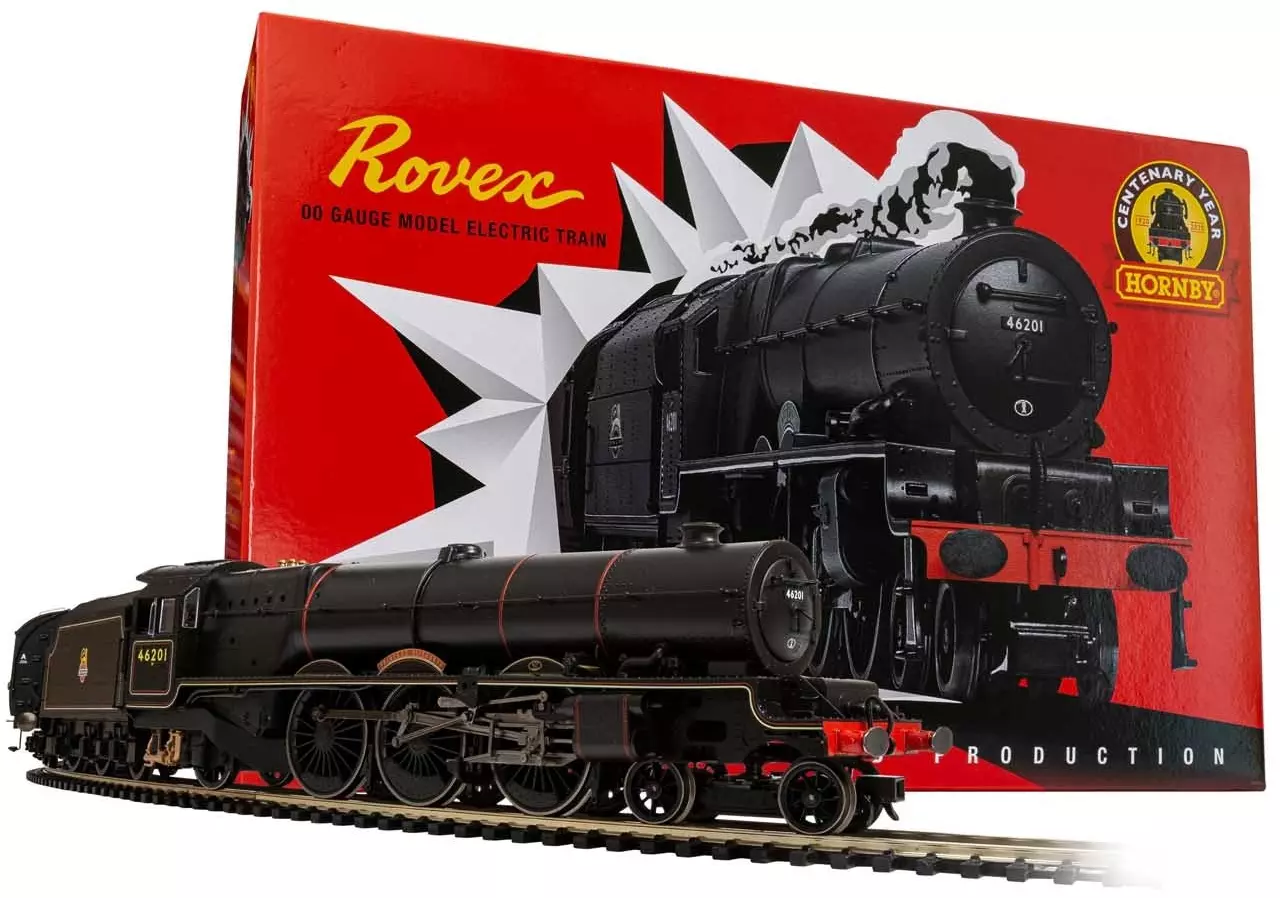 Manufacturer catalogue image - please note that pre-release images may be CAD renders or CGI images rather than photographs
Prototype Era
Era 4 (1948 to 1956) British Railways Early Crest
Manufacturer description
Rovex Plastics Ltd was formed in 1946 by Alexandra Gregory Vanetzian who had quickly, after the end of the Second World War mastered the technique of moulding plastic into brightly coloured miniature cars that he supplied under contracts to Marks & Spencer. Unfortunately, Vanetzian had to cease production of his cars as the name Rovex conflicted with the already registered Rover Car Company name and he consequently had to undertake not to manufacture any more cars, miniature or otherwise. So impressed had Marks & Spencer been with the toy car Vanetzian had supplied that they asked him in 1948 to produce an inexpensive battery powered train set.

Vanetzian accepted the challenge and in 1950, just in time for Christmas, the first train sets started to appear in the Marks & Spencer stores. The first Rovex set consisted of an oval of track, a battery box controller, two coaches and a black Princess locomotive, 'Princess Elizabeth'. However the task of completing the huge order for Marks & Spencer was not a smooth one and weighed down with financial issues Alexandra Vanetzian sold Rovex Plastics Ltd. to Lines Bros in October 1951 and in 1952 Tri-ang Railways was formed. The current Hornby range of train sets can trace their lineage to the very first set produced by Rovex Plastics Ltd., which contained a black Princess Coronation Class locomotive, 'Princess Elizabeth'.

With the twin celebrations of not only the Hornby Trains 100th Anniversary but also the 70th anniversary of the first Rovex, later to become Tri-ang Railways, there can only be one locomotive suitable to be included in a set celebrating these two momentous anniversaries and that is the 'Princess Elizabeth'. This set features the 21st century equivalents of not only the locomotive but also the coaches that replicate as closely as possible the very first Rovex train set.
As part of the Hornby Trains Centenary group of products, this set represents the coming together of the latest highly detailed models of 2020 with the pack artwork inspired by that of the very first set produced in 1950 by Rovex Plastics Ltd. This special limited edition train set contains an authenticating certificate confirming that it is just one of a production quantity of 1000 sets.
What's in the Box!?
Rolling Stock: BR Princess Royal Class 4-6-2; 46201 'Princess Elizabeth' LMS Period III Corridor First; 7573 LMS Period III Corridor Third, 27424.
Track & Accessories:
3rd Radius Large Oval; Train Controller (R7229); Wall Plug Transformer (P9000W); Power Connecting Track (R8206) Re-Railer.
DCC status
DCC Ready 8-pin socket
Livery
BR black with early emblem
Minimum radius curve
2nd Radius (438mm)
Running numbers
46201, 7573, 27424
Locomotive class*
Princess Royal
Operator
British Railways
Designer
Sir William Stanier
Coach type
London, Midland & Scottish Railway PIII
TOPS classification
FK (First Corridor)
* Class names often change over the lifespan of a locomotive, so this is not necessarily the class name used by the operator in the period modelled.
Supplier links are provided for your convenience and do not guarantee that the product is currently available. RailwayModels.uk is not a representative of these suppliers, but may receive a commission when purchases are made through links on this page.