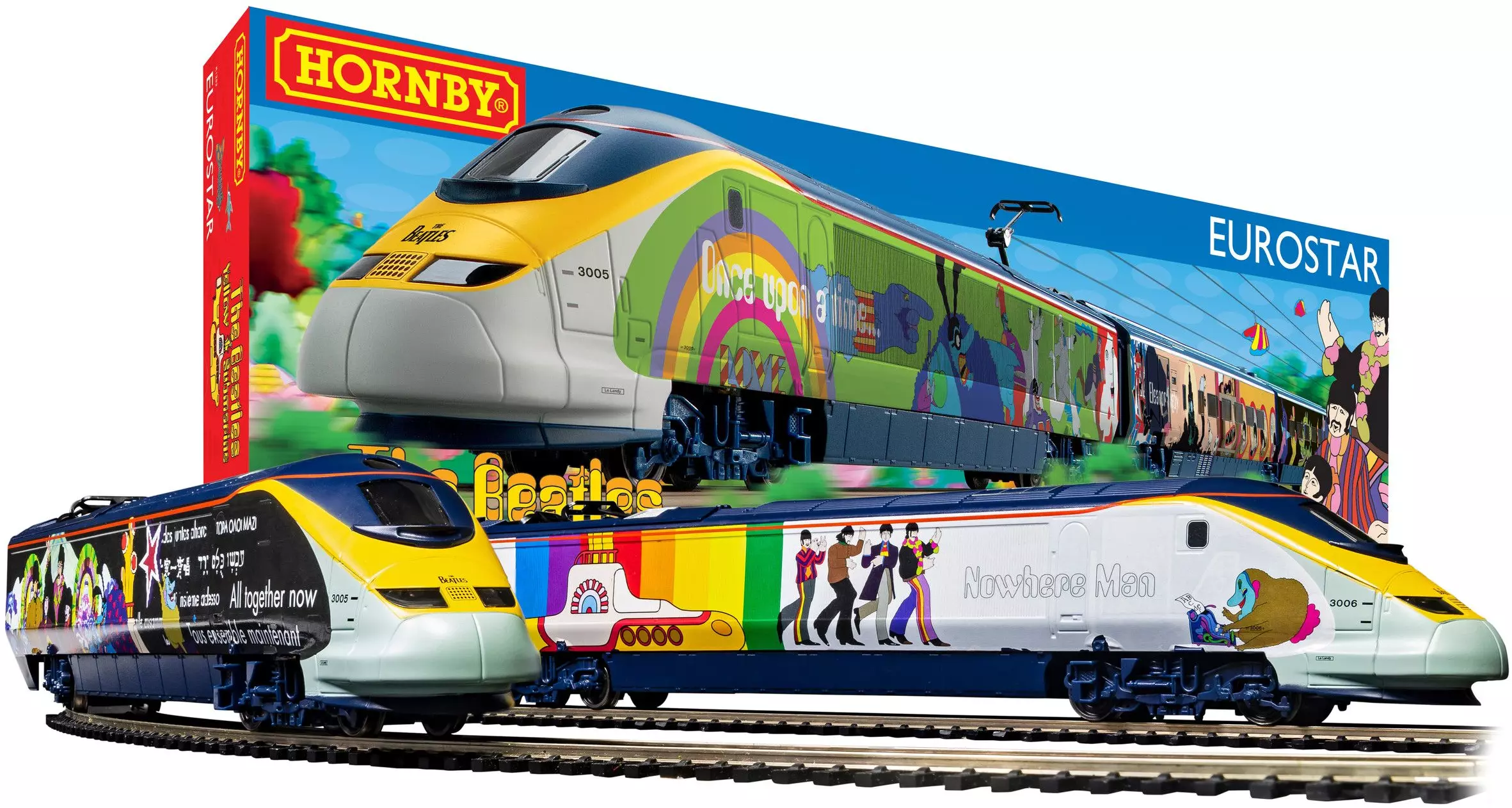 Manufacturer catalogue image - please note that pre-release images may be CAD renders or CGI images rather than photographs
Prototype Era
Era 9 (1995 to 2004) Initial Privatisation
Manufacturer description
Eurostar's first use of the Class 373 for an external agency marketing campaign took place in September 1999 when the Sets 3005/3006 were transformed with a vinyl wrap that recreated scenes from The Beatles' film 'Yellow Submarine'. This was just one of the promotional events that marked the release of the remixed music track that Autumn.
Along with the remastered version of the film that was released in cinemas and on video, the film which had not been available for over a decade included scenes that were edited out of the original, while the album featured new mixes of songs, such as 'With A Little Help From My Friends' and 'Lucy In The Sky With Diamonds', the first such time a Beatles album had ever been remixed.
Our Hornby train set celebrates all that we love about the Beatles and you get everything you need in the box to run this Eurostar around the track. If you have ever thought about having your own layout then this is the perfect set to start your enjoyment of the hobby.
© 2020 Apple Corps Ltd. All rights reserved. A BeatlesTM product licensed by Apple Corps Ltd. 'Beatles' is a trademark of Apple Corps Ltd. 'Apple' and the Apple logo are exclusively licensed to Apple Corps Ltd.
What's in the box? 
ROLLING STOCK:
Eurostar Class 373 Power Driving Car
Eurostar Class 373 Dummy Driving Car
2 x Eurostar Class 373 Passenger Saloons with non-working pantographs
TRACK & ACCESSORIES:
3rd Radius Starter Oval, with Track Pack A (includes point and buffer) 
Train Controller (R8250)
Wall Plug Transformer (P9000W)
Power Connecting Track (R8206) Re-Railer
This Hornby Train Set is based on a Railroad specification. Railroad models are carefully designed to be less easily damaged yet maintaining attractive detailing and accurate liveries. 
More details about our Railroad range can be found here: Railroad (hornby.com)
Release date:
November 2020
DCC status
DCC Ready 8-pin socket
Minimum radius curve
2nd Radius (438mm)
Power pickup
Power Car only
Motive power
Electric Multiple Unit
Coach type
Alstom Class 373 'Eurostar'
* Class names often change over the lifespan of a locomotive, so this is not necessarily the class name used by the operator in the period modelled.
Supplier links are provided for your convenience and do not guarantee that the product is currently available. RailwayModels.uk is not a representative of these suppliers, but may receive a commission when purchases are made through links on this page.