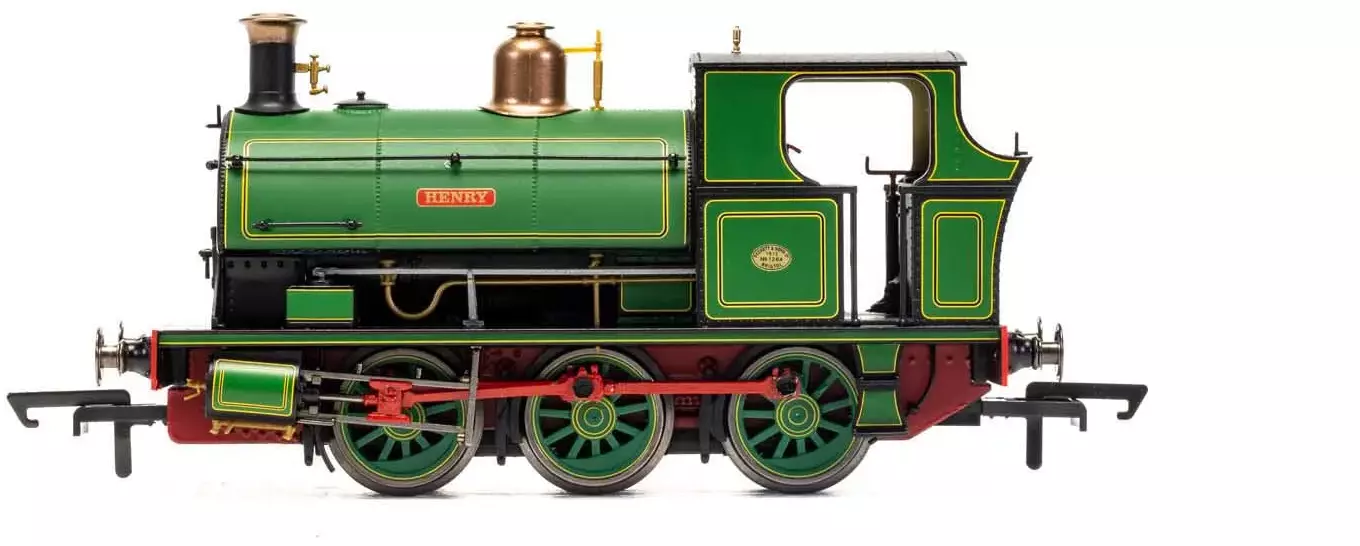 Manufacturer catalogue image - please note that pre-release images may be CAD renders or CGI images rather than photographs
Prototype Eras
Era 4 (1948 to 1956) British Railways Early Crest
Era 5 (1957 to 1966) British Railways Late Crest
Era 6 (1967 to 1972) British Rail Blue (Pre-TOPS)
Manufacturer description
The Peckett B Class was a classic six-coupled, industrial saddle tank type locomotive of the late Victorian/Edwardian era that covered three different variants, from the B1 through to the B3. The original version of the B1 was a Fox Walker design and featured a smokebox that extended beyond the saddle tank, an open cab and a flared top coal bunker. When the firm Peckett & Sons Ltd took over the business established at the Atlas Engine Works in St. George, Bristol, by Fox, Walker & Company in 1880, the initial B1 locomotives produced by the firm, followed the Fox Walker design.
By 1890, the Peckett B1 design, with its extended covered cab and full-length saddle tank, had evolved and in 1905 a new upgraded version appeared, the B2 Class.The Peckett B2 0-6-0ST had the appearance of being a more compact locomotive than its predessor, although in reality it was the bigger cab and external coal bunker that tended to give this impression.
The first of the class, No. 1051, was sold new in 1905 to the Trimsaran Colliery in Wales and while no more than four locomotives were ever produced in a year, production continued until 1931 when No. 1802 was sold to Hardwick Colliery Co. Ltd.Peckett B2 No. 1264 was built in 1264 and served at the Avonmouth Docks. The locomotive was named 'Henry' and was one of many Pecketts serving at the docks. In later years, the railway system was worked by Sentinel diesel locomotives before closing in 1983.
DCC status
DCC Ready 4 pin socket
Minimum radius curve
1st Radius (371mm)
Coupling
NEM / Tension lock
Locomotive class*
Peckett & Sons B2
Operator
Port of Bristol Authority
Wheel arrangement
0-6-0ST
* Class names often change over the lifespan of a locomotive, so this is not necessarily the class name used by the operator in the period modelled.
Supplier links are provided for your convenience and do not guarantee that the product is currently available. RailwayModels.uk is not a representative of these suppliers, but may receive a commission when purchases are made through links on this page.