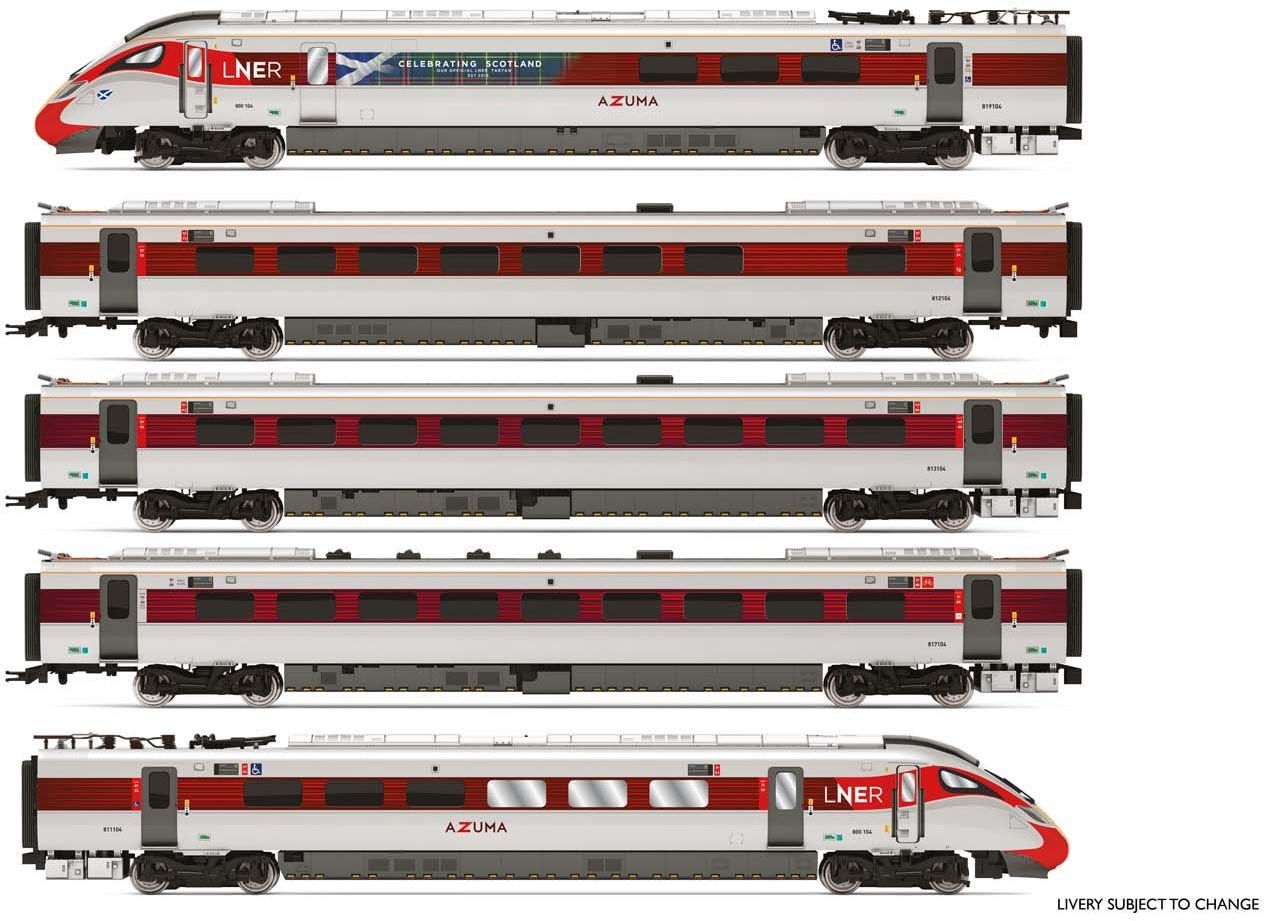 Manufacturer catalogue image
Prototype Eras
Era 9 (1995 to 2004) Initial Privatisation
Era 11 (2016 to 2022) Current Era
Manufacturer description
While Class 800 units had been in service with the LNER since May of 2019, they would not operate on the flagship Flying Scotsman service until the first of August. Set 800 104 was chosen for the occasion, being used on the 05.40 service from Edinburgh to London King's Cross. The unit would then snake its way back to Scotland from London on the 17.30 return service. For the launch a modified version of the Azuma livery was created entitled 'Celebrating Scotland', featuring a newly created LNER tartan which festooned the power car for the journey. 800 104 was also used when the Azuma service was introduced to the cities of Aberdeen on the 26th November 2019 and Inverness on the Highland Chieftain service on the 10th September 2019.
'Celebrating Scotland' was designed by Ken MacDonald of Houston Kiltmakers in Paisley, the tartan colours each have a unique meaning tied into the route. The tartan comprised of blue for Scotland, red for England, white for the Yorkshire rose, purple for the heather of Scotland, green for the rolling hills and landscape along the journey and silver to represent the rails the train swiftly navigated between London and Scotland, be that on the usual East Coast Main Line or the diverted West Coast Main Line.
DCC status
DCC Ready 8-pin socket
Livery
LNER - London North Eastern Railway (2018)
Minimum radius curve
2nd Radius (438mm)
Coupling
NEM / Proprietary coupling between cars. It is possible to couple units in multiple.
Power pickup
Power Car only
Name
Celebrating Scotland
Running numbers
819104, 811104, 812104, 813104, 817104
Features
Directional lighting
Interior lighting
Locomotive class*
Class 800 Hitachi
Operator
LNER, Azuma/LNER, Tartan
Built by
Hitachi Kasado (Pre-Production) Hitachi Newton Aycliffe (Production)
Motive power
Electro-diesel Multiple Unit
Coach type
Hitachi Class 800
TOPS classification
MS (Motor Standard)
* Class names often change over the lifespan of a locomotive, so this is not necessarily the class name used by the operator in the period modelled.
Supplier links are provided for your convenience and do not guarantee that the product is currently available. RailwayModels.uk is not a representative of these suppliers, but may receive a commission when purchases are made through links on this page.