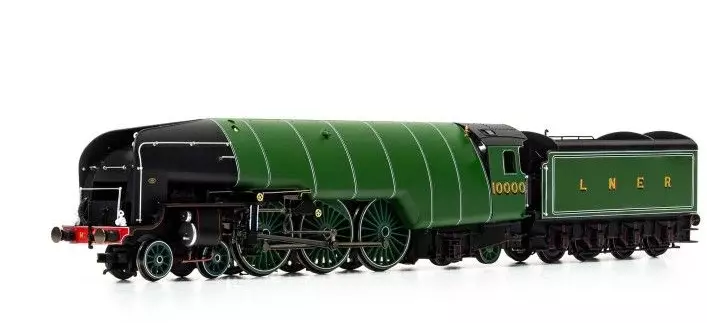 Manufacturer catalogue image - please note that pre-release images may be CAD renders or CGI images rather than photographs
Prototype Era
Era 3 (1923 to 1947) The Big Four (LNER, LMS, GWR and SR)
Manufacturer description
The first reference to 10000's designation as Class W1 was on 9 November 1926, but where the widely adopted name of 'Hush-Hush' came from is disputed. It could be that the nickname arose in the late summer of 1928, as news of Gresley's new locomotive began to leak out. However other sources suggest this was possibly an internal Darlington name that came from the distinctively quiet motion sound the loco made or even because of a mistaken caption that featured in a Path News item.
On 20 November 1929, nameplates were drawn up featuring the name British Enterprise and were cast soon after, but these plates were never fitted and the loco remained unnamed, being referred to as 'Hush-Hush' ever since. Yarrow's had completed the boiler in February 1929 and on April 3rd the chassis was moved from Darlington to Glasgow for testing, these being completed by October 1929 and it was during this period that wind tunnel tests led to the unusual front-end design that gave the W1 part of its distinctive appearance. Official photographs were released on December 10th and the first trial run took place on December 12th, followed by another on December 29th and 9 January 1930, the first trip to Kings Cross.
Although it was to be a further six months of trials though before 10000 finally entered traffic on June 20, 1930. Between June 1930 and May 29 1933, 10000 run 70,000 miles in service, from Kings Cross to Edinburgh, including the Flying Scotsman and Queens of Scots services, but in 1934 modifications and a general repair took 10000 out of service for just over a year, the locomotive returning to traffic on June 13, 1934. At the end of January 1935, a Kylchap double blastpipe and chimney was fitted which eventually required the fitting of a smoke lifter for better smoke clearance. On August 21, 1935, 10000 was returned to Darlington for the last time in its original form, having covered another 20,823 miles since June 1934.
10000 had proved to be extremely capable, but it was also unreliable. Out of the 1,888 days in service, the locomotive spent 1,105 at Darlington Works alone.
Release date:
January 2022
DCC status
DCC Ready 8 pin socket
Livery
Apple/Doncaster Green, Lined (Silver)
Minimum radius curve
2nd Radius (438mm)
Coupling
NEM / Tension lock
Locomotive class*
London & North Eastern Railway W1 "Hush-Hush"
Designer
Sir Nigel Gresley
Built by
Darlington Works
* Class names often change over the lifespan of a locomotive, so this is not necessarily the class name used by the operator in the period modelled.
Supplier links are provided for your convenience and do not guarantee that the product is currently available. RailwayModels.uk is not a representative of these suppliers, but may receive a commission when purchases are made through links on this page.