Dapol 4F-030-023
16T Steel Mineral BR Bauxite M620650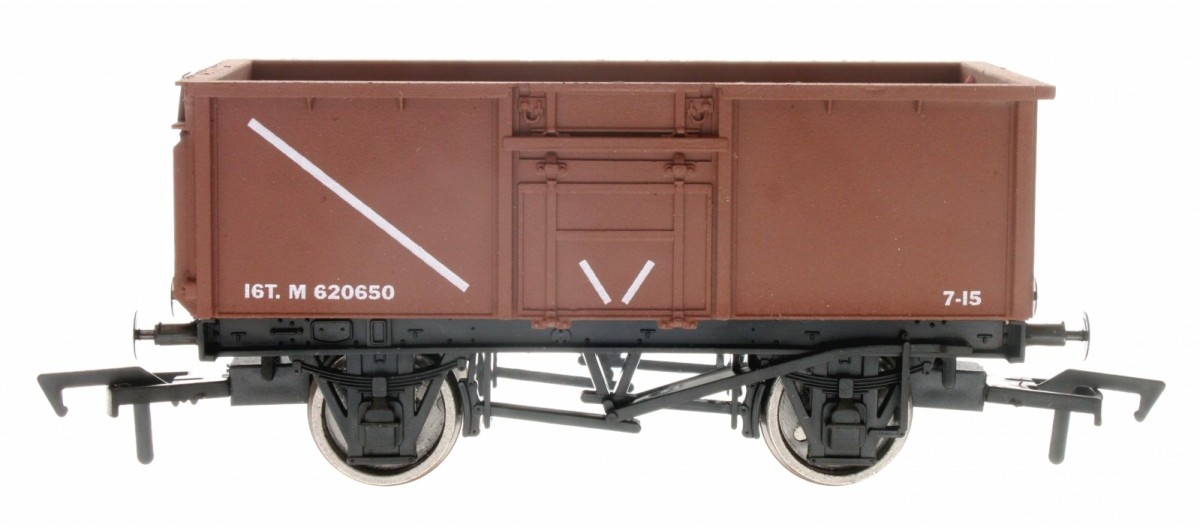 Manufacturer catalogue image
Prototype Eras
Era 4 (1948 to 1956) British Railways Early Crest
Era 5 (1957 to 1966) British Railways Late Crest
Era 6 (1967 to 1972) British Rail Blue (Pre-TOPS)
Era 7 (1972 to 1982) British Rail Blue (TOPS)
Manufacturer description
The 16 Ton Steel  Mineral Wagon was a product of war time, when the requirement for coal soared and efforts were made to transport it more efficiently. This new wagon offered a 30% increase in haulage capacity over the pre-war wooden open wagons and as a consequence their popularity endured post war, when this wagon became the standard coal shifter in the newly nationalised BR. Over 300,000 wagons were built by many different construction companies (with the associated design differences that this caused) and these wagons carried on in service until 1987.
The Dapol Model of the 16 ton mineral wagon features:
Highly detailed body moulding
Complete with coal load
profiled wheels
NEM pockets with self centring couplings
Accurately applied livery
Supplier links are provided for your convenience and do not guarantee that the product is currently available. RailwayModels.uk is not a representative of these suppliers, but may receive a commission when purchases are made through links on this page.