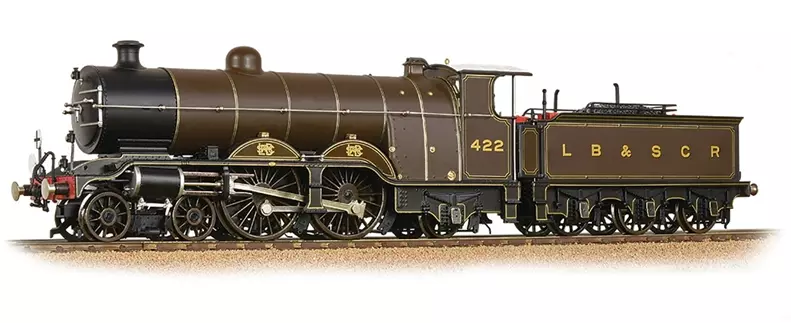 Manufacturer catalogue image - please note that pre-release images may be CAD renders or CGI images rather than photographs
Prototype Era
Era 2 (1875 to 1922) Pre-grouping
Manufacturer description
Announced as part of our Winter British Railway Announcements we are delighted to bring you our new LB&SCR H2 Atlantic No. 422 in LB&SCR Umber livery.
This era 2 model incorporates a wealth of fine detailing, accurately capturing the features of the H2 Class Atlantic and is supplied with an accessory pack which includes vacuum pipes, Screw-link couplings, route indicator discs and cab doors. The model is also ready to accept a speaker and has a 21 Pin DCC Decoder socket for those wishing to equip their model for use on DCC.
Also available with SOUND FITTED (Item No. 31-922SF).
MODEL FEATURES:
Bachmann Branchline OO Scale
Era 2
Pristine LB&SCR Umber livery with gold lining
Accessory Pack
NEM Coupling Pockets
Tender Pickups
Equipped with a 21 Pin DCC Decoder Socket – recommended Decoder 36-557
Speaker Ready
Length 260mm (over couplings)
LB&SCR H2 HISTORY
In 1911 the LB&SCR's operations were under strain as 150 locomotives and tenders were awaiting works repairs. Acting superintendent Lawson Billinton was instructed to allow unlimited overtime at Brighton Works to ensure as many as possible were ready for the summer, he was also granted the authority to construct more 4-4-2 'Atlantic' locomotives to help ease the strain on operations. Refining the design of D. E. Marsh's H1 Atlantic, six H2 Atlantics were ordered from Brighton Works on 4th April 1911 and with a much-needed quick turnaround they entered into traffic between June 1911 and January 1912, numbered 421 - 426.
Initially classified as H1/s, the 's' denoted the incorporation of a Schmidt Superheater into the design of the internal boiler layout. Other changes to the H1 design included an increase in the size of the cylinders and the use of 10-inch piston valves, while the smoke box was carried on a separate saddle. The most significant change was the reduction in boiler pressure from 200lb to 170lb per square inch, the intention was to lower boiler maintenance but not to reduce performance, however, the reduction did impact their speed.
Once in service, they shared duties with the H1s on London-Brighton express trains including the Pullman services 'The Brighton Limited' and 'The Southern Belle', which the LB&SCR described as 'The most luxurious train in the World'. From 1925 the H2 was gradually replaced on London-Brighton services, however, there was still plenty of work on other routes including boat-train duties connecting the Newhaven-Dieppe ferry. It was at this time that they were all given names highlighting geographical features along the south coast.
Between 1935 and 1937 the locomotives were altered to suit the composite loading gauge; further alterations came in 1938 when Oliver Bulleid increased the H2 boiler pressure to match that of the H1s at 200lb per square inch. When cross-channel ferry services were suspended due to World War Two, some locomotives were put into store whilst others found work on other duties in Southern England. The H2s returned to boat train duties after the War until the mid-1950s. One member of the Class was withdrawn in 1949, but the remainder continued in regular use until 1956 and the last was withdrawn in April 1958. None have survived into preservation; however, a new build locomotive is nearing completion at the Bluebell Railway.
DCC status
DCC Ready 21 pin socket
Locomotive class*
London, Brighton & South Coast Railway H2 "Brighton Atlantic"
Operator
London, Brighton & South Coast Railway
Designer
Lawson Billinton
* Class names often change over the lifespan of a locomotive, so this is not necessarily the class name used by the operator in the period modelled.
Supplier links are provided for your convenience and do not guarantee that the product is currently available. RailwayModels.uk is not a representative of these suppliers, but may receive a commission when purchases are made through links on this page.