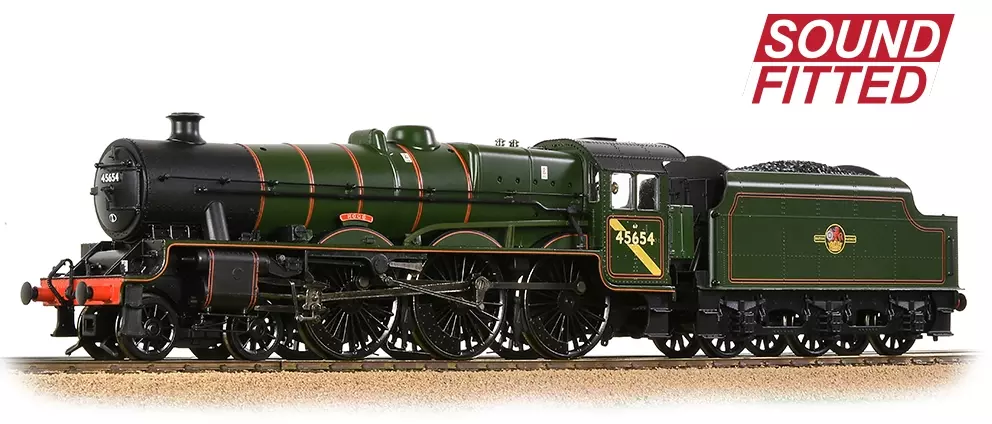 Manufacturer catalogue image - please note that pre-release images may be CAD renders or CGI images rather than photographs
Prototype Era
Era 5 (1957 to 1966) British Railways Late Crest
Manufacturer description
We are delighted to offer this LMS 5XP 'Jubilee' with Riveted Tender No. 45654 'Hood' in BR Lined Green (Late Crest) livery, which ahs been SOUND FITTED for an even more realistic running experience.
MODEL FEATURES:
Bachmann Branchline OO Scale
Era 5
Pristine BR Lined Green (Late Crest)
Poseable Loco-Tender Fall-plate
Welded Fowler Tender
Accessory Pack - Including etched 'Hood' nameplates
NEM Coupling Pockets
Sprung BufferS
SOUND FITTED – See below for the function list
Length 268mm
SOUNDS:
F0 -N/A
F1 - Locomotive Sound (Startup/Stop)
F2 - Whistle 1
F3 - Whistle 2
F4 - Whistle 3
F5 - Injector
F6 - Guard's Whistle
F7 - Drain Cocks
F8 - Handbrake
F9 - Coupling-up Noise
F10 - Water Filling
F11 - Coal Shovelling
F12 - AWS Bell
F13 - Shunting Speed
Analogue Users: Normal-load running sounds, acceleration steam chuff sounds and any other automatic and randomised sounds can be enjoyed when using this model on analogue control (DC) straight from the box - these sounds will play automatically when power is applied!
HISTORY:
The London Midland and Scottish Railway (LMS) Jubilee Class is a steam locomotive type designed principally for main line passenger work. 191 locomotives were built between 1934 and 1936. They were built alongside the numerous LMS Stanier Class 5 4-6-0. 113 locomotives were ordered straight from the drawing board. No. 5642 which had been named Silver Jubilee on 19 April 1935 in recognition of the Silver Jubilee of King George V on 6 May of that year, gave the entire class its name.
The power classification was 5XP, in common with the earlier Patriot class. In January 1951, the classification was revised to 6P; this was revised again to 6P5F in November 1955, but the latter change was not applied to the locomotives' cabsides, which continued to show 6P. The class is often associated with the Midland Division, i.e. the lines inherited from the former Midland Railway, because until the late 1950s, it was rare for any 7P locomotives to work south of Leeds. Until then, Jubilees were the largest express engine normally found on the lines running out of St Pancras or radiating from Derby. The locos were synonymous with all main lines throughout the former LMS system, over which they were known to haul many of the famous named expresses including the Irish Mail, Thames Clyde, The Waverley, Devonian, Lakes Express, Lancastrian, Manxman, Mancunian, Palatine, Peaks Express, The Pines and the Ulster Express.
Four Jubilees have been preserved with two of them 45593 and 45596 being purchased directly from BR after the end of main line steam, the other two being rescued from Woodham Brothers. All four members of the class have operated in preservation and all have run on the main line. As of 2019 three members of the class are operational and all of them have main line certificates, the most recent engine being 45596 Bahamas following running in at Tyseley. While three members of the class are operational the fourth engine 45593 Kolhapur is stored inside the shed at Tyseley Loco Works awaiting its turn in the overhaul queue.
Release date:
Jun/Jul 2024
DCC status
DCC Sound Fitted
Livery
Lined Green with Late Crest
Minimum radius curve
2nd Radius (438mm)
Locomotive class*
London, Midland & Scottish Railway 6P Jubilee
Operator
British Railways
* Class names often change over the lifespan of a locomotive, so this is not necessarily the class name used by the operator in the period modelled.
Supplier links are provided for your convenience and do not guarantee that the product is currently available. RailwayModels.uk is not a representative of these suppliers, but may receive a commission when purchases are made through links on this page.