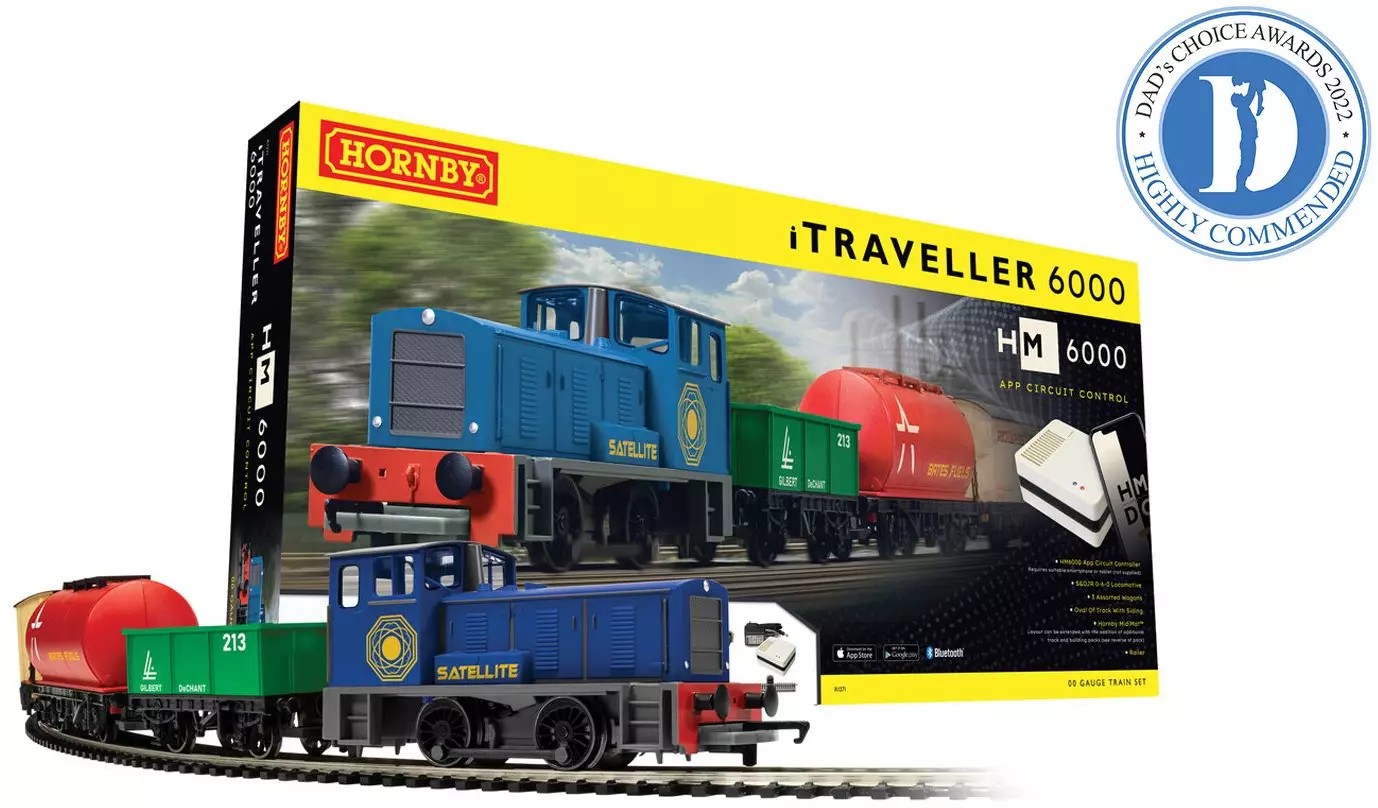 Manufacturer catalogue image - please note that pre-release images may be CAD renders or CGI images rather than photographs
Prototype Eras
Era 7 (1972 to 1982) British Rail Blue (TOPS)
Era 9 (1995 to 2004) Initial Privatisation
Manufacturer description
The iTraveller 6000 Train Set is the model railway of the future! This set features a train inspired by cutting edge technology.
Everything needed to get started with model railways is in the box and includes: a locomotive, rolling stock and track as well as Hornby's new controller system the HM6000 which allows the locomotive to be controlled using mobile devices via a downloadable app.
This Hornby Train Set is based on a Railroad specification. Railroad models are carefully designed to be less easily damaged, yet maintaining attractive detailing and accurate liveries. ​​​​​​​
More details about our Railroad range can be found here: Railroad (hornby.com)
Please note: HM | DC requires pairing to HM6000 &/OR HM6010 units; please note that the phone or tablet being used can affect HM6000/HM6010's performance, it is required to have a phone or tablet with the specification listed below for HM | DC to perform as expected:
Please ensure that you are downloading HM | DC onto a phone or tablet that is no more than 5 years old from the date of the phone/tablet release.
Please ensure that your phone or tablet supports Bluetooth 4.0.
Please ensure that your phone or tablet is updated to at least IOS 10 (Apple) or Version 8.0: Oreo (Android).
Please ensure that your phone or tablet has at least 2GB RAM. It is advised to have a phone or tablet with at least 3GB RAM.
Please note: Google Pixel phones running Android 14, currently are known to have issues in downloading the HM | DC app. Downgrading to Android 13 to install the HM | DC app will allow for install. We are working hard to fix this issue, but please contact [email protected] for more information if you are unsure on compatibility prior to purchase.
Minimum radius curve
1st Radius (371mm)
DCC status
DCC compatible but no socket
Locomotive class*
Freelance
* Class names often change over the lifespan of a locomotive, so this is not necessarily the class name used by the operator in the period modelled.
Supplier links are provided for your convenience and do not guarantee that the product is currently available. RailwayModels.uk is not a representative of these suppliers, but may receive a commission when purchases are made through links on this page.