Dapol 4F-053-002
Megafret Wagon Set 3368 490 9 354-5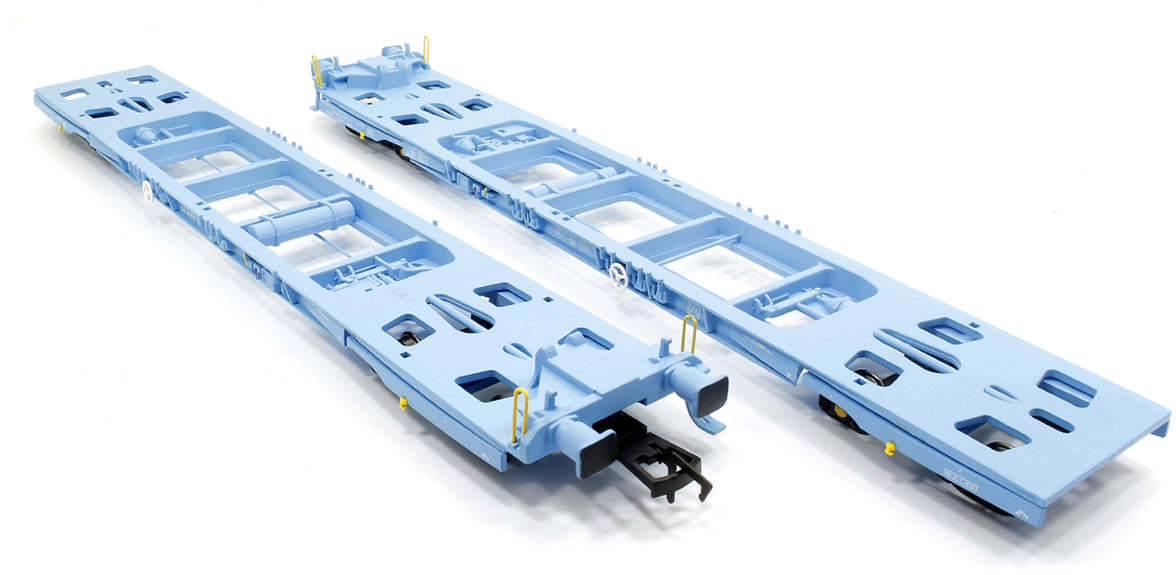 Manufacturer catalogue image
Prototype Eras
Era 9 (1995 to 2004) Initial Privatisation
Era 10 (2005 to 2015) Rebuilding of the Railways
Era 11 (2016 to 2021) Current Era
Manufacturer description
Megafret wagons were first introduced in 2001 and were leased exclusively by Freightliner for operation through the Channel Tunnel and across mainland Europe. Their design with low access loading platforms allowed them to carry standard 40' and 45' high cube containers on British Rail W9 load gauge track (maximum 9' high by 8'6" width) enabling the expansion of the rail market share of the deep sea container business. Each Megafret was built as a twin wagon set permanently coupled together and in pristine condition had a characteristic blue livery. Megafret wagons are still in widespread usage today.
The Dapol Model of the Megafret Set Features:
Twin wagon pack 
Superbly weathered Megafret available
Detailed moulded body with many separately added features
Superbly applied decoration and liveries
Self-centring NEM pockets at both ends
.
Supplier links are provided for your convenience and do not guarantee that the product is currently available. RailwayModels.uk is not a representative of these suppliers, but may receive a commission when purchases are made through links on this page.