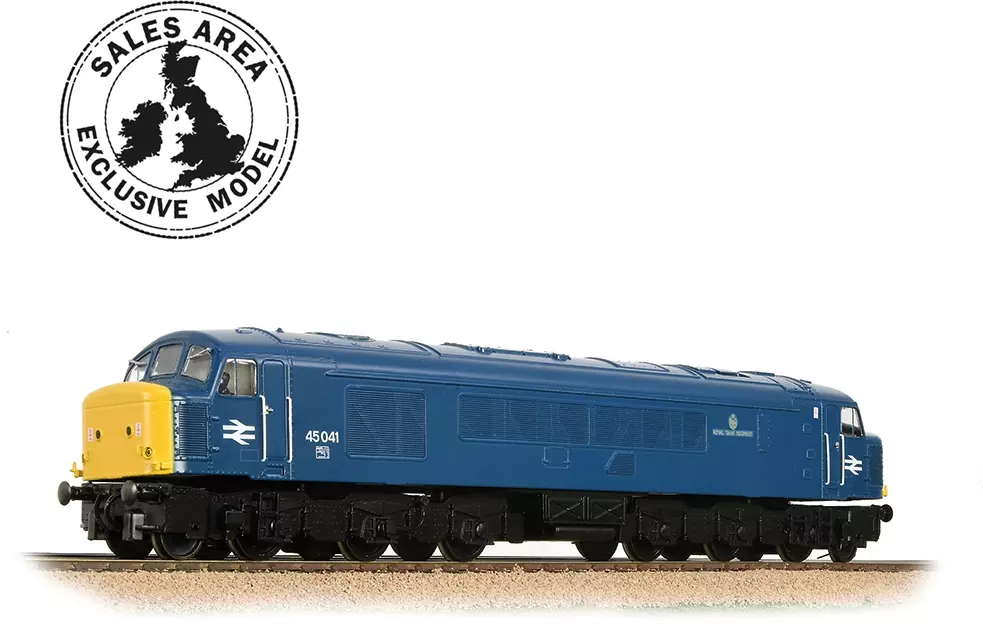 Manufacturer catalogue image - please note that pre-release images may be CAD renders or CGI images rather than photographs
Prototype Era
Era 7 (1972 to 1982) British Rail Blue (TOPS)
Manufacturer description
The Class 45s were built at British Rail's Derby and Crewe Works between 1960 and 1962. They were a development of the Class 44 and, together with the Class 46, the three classes were collectively known as the 'Peaks'. As built the entire class was fitted with multiple-working equipment and steam-heat boilers but some later had their boilers removed and were fitted with electric train heating (ETH). With the implementation of TOPS in 1971, the steam-heat locos were designated Class 45/0 and the ETH fitted examples became 45/1s.
From 1975, during works visits the locomotives began to have their head-code equipment removed and this was replaced with sheet metal and two sealed beam marker lights and it is in this condition that our Class 45/0s are modelled. Although withdrawals of the Class 45 fleet began in the early-1980s, No. 45041 was one of the longest surviving examples and was not withdrawn until June 1988
This model is available to order through Bachmann Retailers in the follwoing areass: Bedfordshire, Cambridgeshire, Derbyshire, East Riding of Yorkshire, Essex, Hertfordshire, Leicestershire, Lincolnshire, The town of Milton Keynes, Norfolk, Nottinghamshire, Northamptonshire, Rutland, South Yorkshire and Suffolk.
Release date:
November 2022
Features
Interior lighting
Directional lighting
Locomotive class*
Class 45
* Class names often change over the lifespan of a locomotive, so this is not necessarily the class name used by the operator in the period modelled.
Supplier links are provided for your convenience and do not guarantee that the product is currently available. RailwayModels.uk is not a representative of these suppliers, but may receive a commission when purchases are made through links on this page.