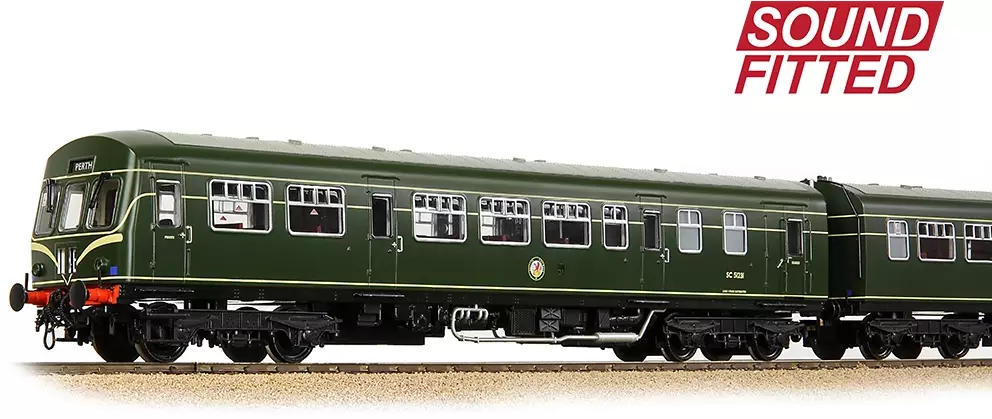 Manufacturer catalogue image - please note that pre-release images may be CAD renders or CGI images rather than photographs
Prototype Era
Era 5 (1957 to 1966) British Railways Late Crest
Manufacturer description
The iconic Class 101 DMU returns for 2022 and this example is finished in the classic BR Green livery and comes complete with SOUND FITTED.
Our model of the Class 101 two-car Diesel Multiple Unit (DMU) captures the character of these first generation DMUs to a tee. Featuring detailed bodywork and interiors, the bogies have been finely rendered and all of the chassis-mounted equipment is present and correct too. All of these details are highlighted by the exquisite livery application, using BR-specification colours and authentic numbers and logos to produce a multiple unit fit for any British Rail fleet. Being SOUND FITTED, this model comes complete with a DCC sound decoder and speaker pre-fitted, meaning you can enjoy realistic sounds on both Analogue and DCC straight out of the box.
MODEL FEATURES:
Bachmann Branchline OO Scale
Era 5
Pristine BR Green (Roundel) Livery
2-Car Unit comprising DMBS No. SC51231 and DTCL No. SC56389
Headcode B and Destination Blinds for Perth and Dundee Tay Bridge
Accessory Pack
NEM Coupling Pockets
Powerful 5 Pole Motor with Flywheel
Sprung Buffers
Directional Lighting and Illuminated Destination Blinds
Interior Lighting
SOUND FITTED- Fitted with a Zimo MS440C 21MTC DCC Sound Decoder – See below for the function list
Length 495mm
SOUNDS
F0 - Directional Lights - On/Off (and Switch Sound)
F1 - On - Warm Engine Start / On, Off - Failed Engine Start / On, Off, On - Cold Engine Start
F2 - Brake
F3 - Single Horn (Speed & Direction Related)
F4 - Two-Tone Horn (Speed & Direction Related)
F5 - Light Engine Mode
F6 - Stationary - Engine Speed Up for Compressor / Moving - Engine at Cruise
F7 - Flange Squeal (Speed Related)
F8 - Detonators (Speed Related)
F9 - Air Tank Drain Down
F10 - Guard's Whistle
F11 - On - Guard's Buzzer / Off - Driver's Response
F12 - On - Guard's Double Buzzer / Off - Driver's Response
F13 - On - Driver's Window Opening / Off - Driver's Window Closing
F14 - On - Driver's Door Opening / Off - Driver's Door Closing
F15 - Passenger Doors Slamming
F16 - Passengers Disembarking
F17 - Windscreen Wipers
F18 - Fade All Sounds
F19 - Hand Brake
F20 - Speed Restricted Movement
F21 - Rail Clack Sound Off
F22 - Saloon Heater
F23 - Passenger Requesting Destination
F24 - Tannoy
F25 - 'Mind the Step'
F26 - Station Ambience
F27 - Volume Down
F28 - Volume Up
Analogue Users: Please note that normal load running sounds and any other automatic or randomised sounds will also operate when this model is used on analogue control (DC) straight from the box!
CLASS 101 DMU HISTORY 
The Class 101 Diesel Multiple Unit (DMU) was one of the most numerous and widely used types of all the first generation DMUs. Typically formed into two-, three- or four-car sets, the first examples were introduced in 1956 and more than 600 vehicles, including driving vehicles fitted with a cab at one end and corridor gangway at the other, and intermediate cars with corridor gangways at both ends, were built by Metropolitan Cammell at Washwood Heath in Birmingham. Construction continued until 1959.
Initially allocated to the North Eastern, London Midland and Scottish Regions, the units later saw use on the Eastern and Western Regions, with occasional running into Southern Region territory too. Fitted with the Blue Square control system, the Class 101s could work in multiple with other 101s and numerous other DMUs when additional capacity was required.
During the 1970s BR embarked on a refurbishment programme to provide passengers with an improved travelling environment and the Class 101s were used as a testbed for these works which resulted in the majority of Class 101 vehicles being refurbished over a period of almost ten years.
In later years many sets were given an additional makeover to extend their passenger service life, whilst others found new roles carrying parcels, as route learning units and for sandite operations. Around thirty two-car units were still in traffic at the start of the 21st century making the Class 101 one of the final first generation DMUs to remain in revenue-earning service.
The type remains popular today, with more than forty vehicles being preserved and these can now be found operating on preserved railways around the UK.