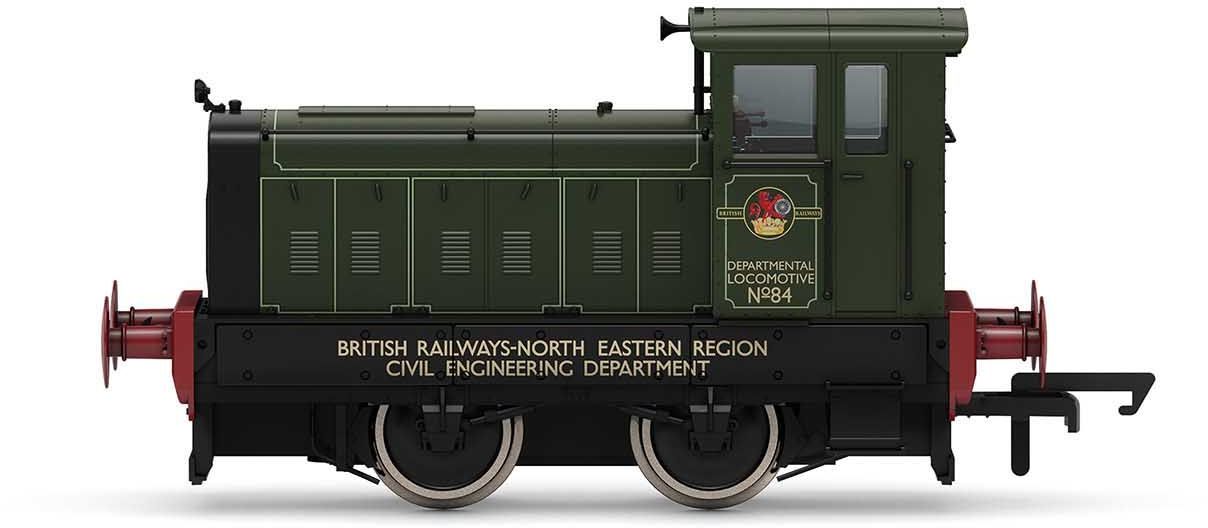 Manufacturer catalogue image - please note that pre-release images may be CAD renders or CGI images rather than photographs
Prototype Eras
Era 5 (1957 to 1966) British Railways Late Crest
Era 6 (1967 to 1972) British Rail Blue (Pre-TOPS)
Manufacturer description
Ruston & Hornsby Ltd, of Lincoln, was formed as the result of the merger between Ruston, Proctor & Co. Ltd and Richard Hornsby & Sons Ltd on September 11, 1918 and their first narrow gauge diesel locomotive left the works on September 1, 1931. In the summer of 1932, production was moved to the larger Boultham Works, where the firm were eventually to become Britain's largest builder of diesel locomotives, with over 6,500 being built by the time production ceased in 1969. Almost as soon as the firm's 44/48HP 0-4-0 locomotives were making an appearance, an upgraded, more powerful 0-4-0 was on the drawing board.
Although many of the features of the 44/48HP were retained for the new 80/88HP, such as the chain drive and running gear, a new type of transmission was fitted, along with Westinghouse airbrakes. The new power unit, Ruston's own 4VPB, delivered 80BHP at 1000rpm and was later supplanted by Ruston's improved 4VPH that delivered 88BHP, but it required compressed air to be injected into the cylinders to be able to start. While running, an air reservoir was kept charged via the braking system, but after standing idle for a period the reservoir depleted and a secondary source was required to recharge the reservoir. This was achieved by fitting a small, secondary 1½HP 'donkey' engine, giving rise to a distinctive raised cover on the right hand side of the engine compartment that differed in size and placement depending on the make of engine used. Two basic weight options were offered for the 80/88HP, of 17 tons and 20 tons, the difference being achieved by attaching weights to the outside frames, as well as to the front and rear buffer beams.
In 1941, Ruston's locomotive classifications were changed, with the 80/88HP becoming 88DS (with the narrow gauge versions being assigned the DSM and DSN suffix, and the broader gauges assigned DSW). Outward appearance changes to the 'standard' locomotives were mainly confined to the cab area, with examples from mid-1947 replacing the open cab with a fully enclosed cab that featured several ad-hoc styles of front window. The final 88DS, 518494, left Boultham Works on 29 November 1967, bringing to an end a production run of 271 locomotives.
Ruston 432478 was built new for British Railways, being delivered in January 1959 to the North Eastern Region Civil Engineers Department at the Leeman Road Permanent Way Stockyard in York, one of six Ruston & Hornsby 88DS locomotives built for British Railways which were distributed between York, Dinsdale Depot, Etherley Tip, Crofton, Hartlepool and Darlington. As well as working shunting duties at Leeman Road, 432478 also worked at the York Central Concrete Depot, which is now the site of the Railway Museum's main visitor car park.