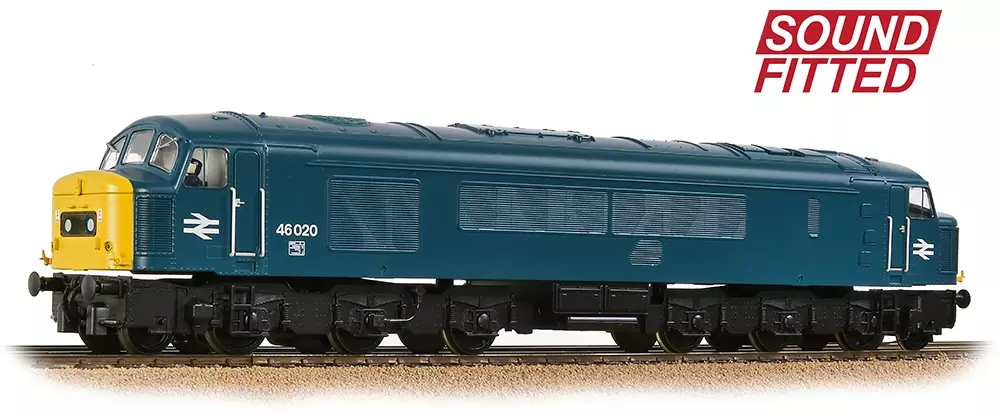 Manufacturer catalogue image - please note that pre-release images may be CAD renders or CGI images rather than photographs
Prototype Era
Era 7 (1972 to 1982) British Rail Blue (TOPS)
Manufacturer description
Sound Fitted
Highlights:
Accessory-pack
Directional lights
History
The Class 46 1Co-Co1 BR-Sulzer Type 4 locos were built from 1961–1963 at British Railways' Derby Works and were initially numbered D138–D193. With the arrival of TOPS they were renumbered to Class 46. Fifty-six locomotives were built. The first was withdrawn in 1977 and all of them were withdrawn by the end of 1984. Class 46s began their lives with twin headcode panels situated in the centre of the nose, and later built examples a single central headcode panel, to which all class members were progressively converted. The majority received plated over nose ends with sealed beam headlights in the 1970s. Liveries worn were standard BR lined green, 'austerity' green without the cream relieveing embellishments of the original livery, and BR Blue with full yellow ends.
The Class 46 design was structurally the same as the preceding Class 45 build, and had the same Sulzer engine, but differed in the fitment of a Brush generator and traction motors, in place of the Crompton Parkinson equipment fitted to the Class 45. Along with the other Sulzer class 44 and 45 designs they are often referred to as "Peaks", so named because the earliest of the Class 44 were named after mountains.
Despite intermittent use on freight trains, Class 46s were regular performers on passenger turns, particularly North East-South West, Trans-Pennine and secondary North East-London trains, and depot allocations reflected this with locos at Gateshead and Plymouth in 1977 giving a typical spread. Freight workings were also quite often worked over long distances, particularly "clay hoods" carrying china clay from Cornwall to the area around Stoke-on-Trent. In the 1980s the remaining locomotives were concentrated at Gateshead depot, and the final booked passenger workings for the class were the dated summer Saturday services Bradford - Weymouth (between Bradford and Birmingham New Street), Newcastle - Plymouth, Newcastle - Blackpool North, and York - Blackpool North. The Class 46s also worked several named expresses including the Yorkshire Pullman, Flying Scotsman, Hull Executive, Thames-Clyde and Thames-Forth, also known as The Waverley, on the much lamented route from Carlisle to Edinburgh via Hawick.
Release date:
Jun/Jul 2022
DCC status
DCC Sound Fitted
Minimum radius curve
2nd Radius (438mm)
Features
Directional lighting
Locomotive class*
British Rail Class 46 "Peak"
Wheel arrangement
A-Co-Co-A
* Class names often change over the lifespan of a locomotive, so this is not necessarily the class name used by the operator in the period modelled.
Supplier links are provided for your convenience and do not guarantee that the product is currently available. RailwayModels.uk is not a representative of these suppliers, but may receive a commission when purchases are made through links on this page.