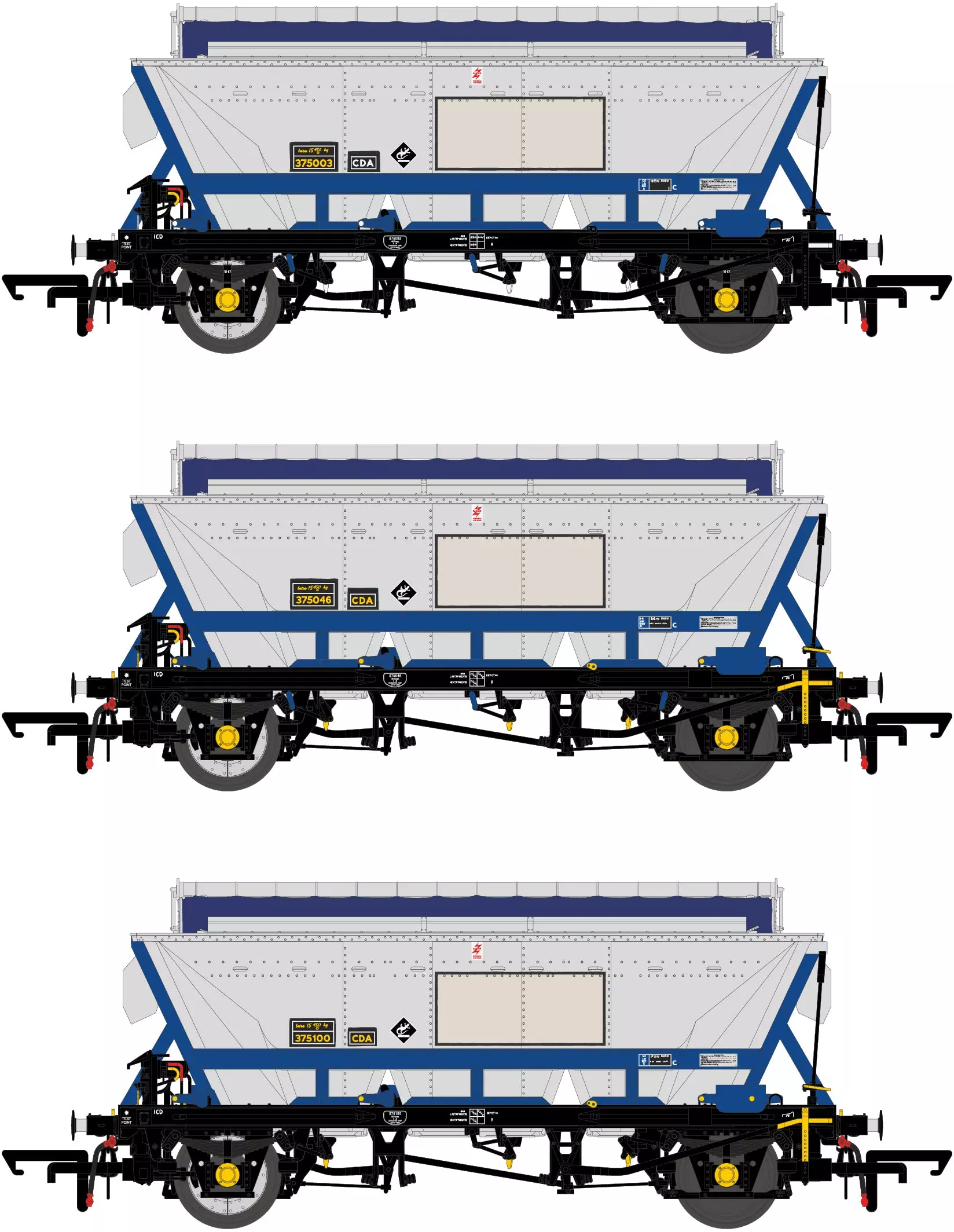 Manufacturer catalogue image - please note that pre-release images may be CAD renders or CGI images rather than photographs
Prototype Era
Era 9 (1995 to 2004) Initial Privatisation
Manufacturer description
Expected Delivery Q3 2024 (Subject to change at Manufacturer's Discretion).
The Model
As you can see in the photos above, our CDA wagons feature a wealth of detail and crispness which signifies 'The Accurascale Way'. A diecast chassis, brass bearings and 26mm pinpoint axles means smooth running and excellent running performance Particular attention has been paid to the detail differences over the traditional HAA wagons these were based on, such as the equipment at the wagon end, holes in the bodyside on one side, the underframe and of course, the hood/canopy.
Given the flexibility of our tooling, Accurascale can also cater for those wagons as built as CDAs from new, as well as those converted from HAA hoppers, giving the modellers a true variety in their wagon rake.
Model Specification
Highly-detailed OO gauge model, 1:76.2 scale on 16.5mm track
Minimum Radius 438mm (2nd Radius Set-track)
Weight 40g
Die-cast chassis for ideal weight
Detailed interior with rivets, framing, strapping and accurately profiled door 'horns'
RP25-110 profile OO gauge wheels with separate brake blocks in line with tread
Sprung metal buffers and dummy instanter couplings
Super fine plastic parts, incl. air pipes, lamp irons, safety catches, clasp and disc brakes, hopper door operating equipment, etc.
Etched metal details, incl. brake lever, chassis plates, etc.
Removable, Kinetic NEM coupler mounts at correct height with mini-tension-lock couplers provided with scale Instanters included
Numerous individual differences between wagon types
Two styles of hopper door: 'X' pattern on coal variants and 'straight beam' pattern on CDA
Heavy duty buffers
CDA correctly features large end air cylinder and above solebar mounted brake distributor, end ventilator boxes, highly detailed roof with textured canvas cover and chassis mounted operating handles